I am extremely pleased to announce that we have won two medals in the category of
"Fiction-Mystery"
in the
Readers Favorite 2009
book contest: a silver medal for our mystery novel
Secret of the Sands
and a bronze medal for its upcoming sequel,
Destiny of the Sands
(coming in 2010!). How cool is that?!?! This is truly an honor for us and I am thrilled to say that we are now award-winning authors! Here is the link to the announcement:
2009 Readers Favorite Winners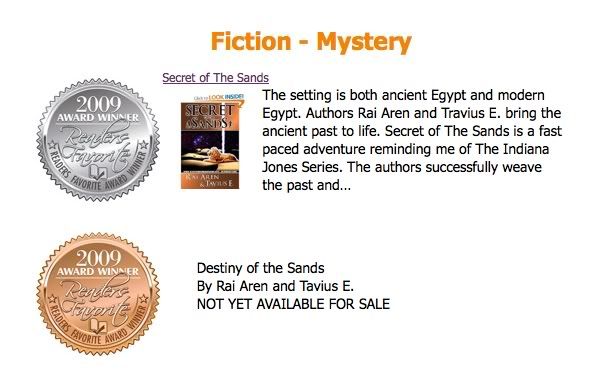 It is immensely gratifying to receive this praise and to know that our stories resonate with readers and reviewers alike. It really is a dream come true… ☺
I just had to show off our super cool Certificates of Award:
I would also like to share the judge's comments we received on each book:
SECRET OF THE SANDS
Authors Rai Aren and Travius E. bring the ancient past to life. Secret of The Sands is a fast paced adventure reminding me of The Indiana Jones Series. The authors successfully weave the past and present together playing out two stories at once. In the past, we watch the story of King Traeus and Queen Axiana unfolds. There is strife in Traeus'' kingdom. He builds a secret chamber under the Sphinx to hide a powerful machine that he hopes will help his people.
In the present Archeology students, Mitch and Alex discover a box hidden in a secret chamber under the Sphinx. The box contains two scrolls and a metal unknown to humankind but predating the iron age. They more they learn the more they question.
This is my kind of book. Please, please make a continuing series and a movie! The authors are extremely talented. I cannot praise this book enough. Fast paced, page turner, character development, fascinating plot…….what more could I ask for.
– ReadersFavorite.com

DESTINY OF THE SANDS:
Destiny of the Sands is the second book in this series. The first book was Secret of The Sands. The story continues in 1941. The war continues and the mysterious box resurfaces. Mitch and Alex must return to once more study the strange alloy. The past and the future intertwine to create an adventure that the reader will not want to end. Danger lurks around every corner as the Nazis fight for world dominance.
(The authors) allow reader to observe life in ancient Egypt and during WWI. There descriptions are fascinating. The characters are realistic. I was very partial to the ancient Egypt scenes. While the stories are parallel for me the past was almost hypnotic. I wanted to experience more. I hope there is another book in this series.
– ReadersFavorite.com
Happy reading always my friends!
Rai Aren, co-author of the mystery novel Secret of the Sands
Destiny of the Sands to be released in 2010
www.secretofthesands.com