Knight Eternal
Here is another of my most recent book reviews, also posted on Goodreads, Amazon and Barnes & Noble.
Knight Eternal
, the follow up book to
Harbinger of Doom
(made up of two stories, The Gateway & The Fallen Angle) was a most excellent read by author Glenn G. Thater. If you are a fan of fantasy stories, this one - in fact all of Glenn's books - are for you.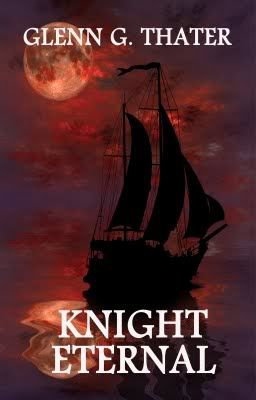 Here is a description of the story:
"In Knight Eternal, Glenn G. Thater transports us to an age of high adventure where knights battle supernatural creatures, political intrigues abound, ancient fiends lurk in the mist, and the line between good and evil is all too thin. This next volume in the epic Harbinger of Doom series is certain to delight fantasy fans everywhere. KNIGHT ETERNAL Lord Angle Theta, Claradon Eotrus, and Ob the gnome battle fanatical monks, deadly bounty hunters, and otherworldly fiends whose merest touch is death, in their relentless pursuit of Korrgonn, Lord of Chaos. Meanwhile, Korrgonn stops at nothing to acquire the fabled Orb of Wisdom, that ancient talisman that can return Azathoth and his kingdom to Midgaard. But the fate of the world turns when Claradon faces DeBoors, the ancient sword-master who has sworn to slay him."
And here is my review:
"
5-stars: Pure Excellence in the Fantasy Genre
The author, Glenn G. Thater, wrote this story based on 1200-year old documents about an enigmatic character, Lord Angle Theta, and his epic journeys and battles. There is even evidence dating all the way back to 2600 B.C. that speaks to the Angle Theta lore. The author has updated this lost tale into the fantasy novel Knight Eternal. It is a battle of good vs. evil in a time of gnomes, elves & knights, and sword & sorcery. Terrible evil has befallen a vast land, creeping into places everywhere - seen and unseen - and corrupting countless people. A cadre of souls sets out to save a comrade after a merciless attack, restore justice and stability, and exact revenge.
Like his first book, Harbinger of Doom (made up of two stories - The Gateway & The Fallen Angle), this is, in my opinion, truly excellent fantasy literature. Many of the themes will be be familiar to fans of the fantasy genre, but it's possible that's because the ancient lore these books are derived from predates many other fantasy stories. Perhaps the intriguing and highly entertaining stories of the intensely mysterious and powerful Angle Theta were amongst of the original sources of inspiration for these later tales. It is obvious to me the appeal of these tales and why they lived on.
I am not exaggerating when I say that excellence is in every part of this book - from the dialogue, the settings, the pacing, the plot, to the overall feel of the story. There is not one word that is extraneous or out of place, there is never any place where I wish there had been more description, or better description, better flow, or more excitement. The characters are all clearly drawn out with palpable presences and personalities - my two faves are Ob the Gnome, and Lord Angle Theta, who continuously simmers with nearly unmatched power, danger, and deep mystery. The dialogue is crisp & witty, humorous at times, and always meaningful. The stakes are high and the journey is wild and unpredictable. The story is perfectly put together and, I think, should be read by every fan of the fantasy genre - I mean this all sincerely. It is a classic in the making.
***Possible spoiler alerts - next paragraph only***
What is really surprising & completely refreshing is that near the end of the book, the story is switched over to the bad guys' point of view, and absolutely everything is upended. The reader is then left questioning if they have it backwards, maybe those are actually the good guys (though ultimately, everyone does bad things, no one is blame-free, but everything seems to have solid motivations). This sets this book (and its predecessors) apart from most other stories. It is revelatory, and so incredibly well done, I am enthralled by it. I am not sure who the good guys are, plus there are many shades of grey, and what an agonizing treat for the reader that is. The possibilities this leaves are so tantalizing that I have never wanted to read a sequel so bad. Ever!
***End spoiler alerts***
One thing is important to mention - the story ends suddenly, very suddenly. It really is the first half of a full story. I didn't realize this about the book, there were pages left, but they turned out to be the glossary, so it caught me by surprise. I dearly hope the next installment will be released post haste!
To wrap it up, Knight Eternal is brilliant storytelling in every possible way. So much so, that I want to read every single tale about Angle Theta that has ever existed. Highly recommended!"
You can learn more about these books and the author on Glenn's website:
www.glenngthater.com
and on his Amazon.com Author page:
Glenn G. Thater - Amazon Author page
And here is the link to his book:
Knight Eternal on Amazon
Happy reading always, my friends!
Rai Aren, co-author of the award-winning sci-fi / mystery novel SECRET OF THE SANDS