The new Canadian distributor for our award-winning, bestselling
mystery novel
, Red Tuque Books, will be presenting at the 2010 BC Library Conference happening this week, Apr22nd, 23rd, & 24th. If you are also attending the conference, be sure to say hello, get a copy of their catalogue & place your order for
SECRET OF THE SANDS
. We would be truly honored to be added to your library shelves :)
Here is our ad, which appears in their 2010 Spring catalogue: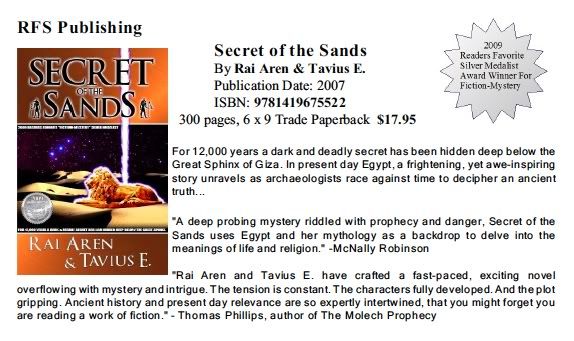 Here is the ordering info in advance:
ISBN-10: 1-4196-7552-4
EAN-13: 978-1419675522
Library of Congress Control Number (LCCN): 2010904965
BISAC codes:
1. FIC002000 FICTION / Action & Adventure
2. FIC030000 FICTION / Suspense
3. FIC040000 FICTION / Alternative History
4. FIC028010 FICTION / Science Fiction / Adventure
5. FIC024000 FICTION / Occult & Supernatural
And here is the link to the
Red Tuque Books
website where you can learn more about them and find their contact information:
www.redtuquebooks.ca

Help support indie efforts & fellow Canadians by ordering from Red Tuque and adding our Indiana-Jones style
adventure novel
to your shelves.
Secret of the Sands
has recently undergone an upgrade, so it will be even more polished & awesome than ever! The new version should be available in early May.
Who would love it?
Secret of the Sands
is intended for both young adult & adult audiences, and appeals to people who love National Treasure, The Mummy movies, and Indiana Jones (it even has shades of The Chronicles of Narnia & The Golden Compass in it), readers who love suspense, adventure, action, alternative historical fiction, speculative sci-fi, unique mystery tales, and those who are fascinated by ancient Egypt and the enigmatic Great Sphinx of Giza…covers a lot of people, doesn't it?! That was the idea ;)
Happy reading always, my friends!
Rai Aren, co-author of the award-winning mystery novel SECRET OF THE SANDS

Rai Aren
Author